Princess Bride quotes can be just right for any situation we find ourselves in!
Take 20% off ALL tees - use code: STAYHOME20, now thru 4/30
Wear a tee and say it without actually saying it!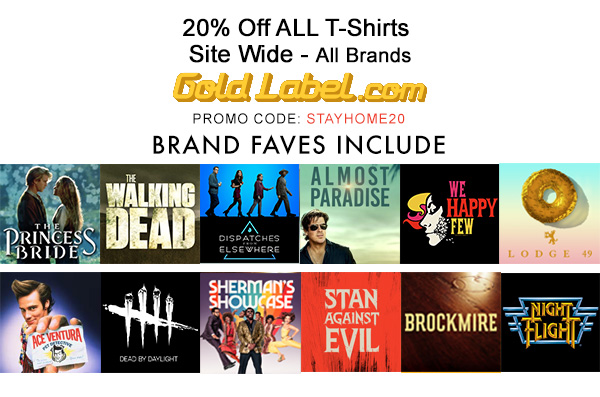 GOLD LABEL GOODS
3060 EL CERRITO PLAZA #342
EL CERRITO, CA 94530
* Save 20% off all t-shirt orders from GoldLabel.com, excluding shipping charges, gift wrap charges and applicable sales tax. Coupon code: STAYHOME20 must be entered at checkout. Promotion starts on April 1, 2020, at 12:00 a.m. (PT) and ends on April 30, 2020, at 11:59 p.m. (PT). All orders must be from the GoldLabel.com and added to cart from URL beginning with: http://www.goldlabel.com or http://www.goldlabelgoods.com. Offer valid online only, cannot be combined with any other coupons or promotions, and may change, be modified or cancelled at any time without notice. This promotion cannot be applied to past orders.